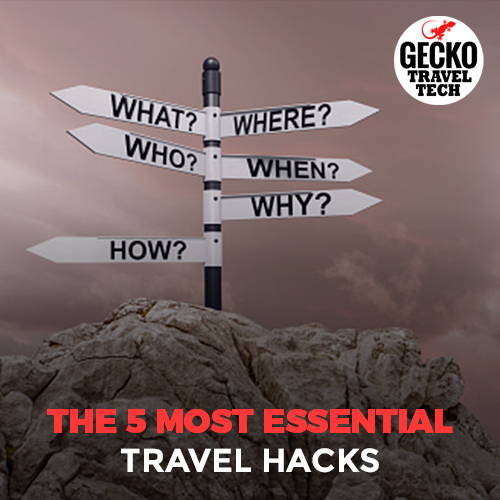 The 5 Most Essential Travel Hacks
The Federal Aviation Administration oversees 2.6 million airline passengers and 43,000 flights — every single day.
Now that's a lot of traveling!
Are you planning a big trip soon? Do you want to make sure it goes as smooth as possible?
Keep reading to discover the top five travel hacks.
Starting off our list of travel life hacks is packing smart.
While it may not be possible for everyone, you should always try to fly with only a carry-on. This saves you from having to check your baggage and avoids the risk of lost luggage.
To do this, use the rolling technique when packing. Roll every item of clothing as tightly as possible — from your jeans to your underwear. This gives you a lot more room to pack extra outfits.
Remember to leave some room for souvenirs!

One of the best travel hacks is to invest in a smartphone pocket wallet.
When you travel, it's hard to keep track of all your identifications, credit cards, and cash. It's even harder to access them quickly when you're on the go. Investing in a smartphone wallet saves you time and hassle.
These wallets stick onto the back of your phone and hold a surprisingly large amount of items. You don't need to carry around an extra wallet or purse and you still have all the essentials safely with you. It's a win-win situation!
Looking for international travel hacks? Make sure you are taking full advantage of credit card rewards.
Different credit cards offer different rewards so it's smart to have multiple. Have one credit card that you use for flights so you can earn free air miles. Use another credit card that offers rewards on dining and daily purchases.
Check out this article to help get you started.
If you plan on traveling, you need to shop around. Spending a few minutes to consider all your travel options can save you a lot of money, and that saved money can turn into a longer trip.
When booking flights, try to be as flexible as possible with departure and arrival times. Also, use a VPN when searching for the best deal. Airlines offer different countries different prices, so searching with a VPN from China may save you money.
For lodging, use the same flexibility. Search Airbnb for local listings instead of opting for a traditional hotel room. Also look for hostels in the area. Both of these options will save you money and provide a social environment.
Our last travel hack is to live like a local.
It's easy to fall into tourist traps and never see the local side of the place you're visiting. Instead, ask locals their favorite spots and avoid touristy parts of town. You'll get a better experience of the culture this way.
Also, avoid anything resembling a chain when searching for food options. The best food when traveling will come from local eateries. Some of the best meals come from food trucks and street markets.
Take Advantage of These Travel Hacks
With these travel hacks, you can easily join one of the 2.6 million daily airline passengers.
Remember to pack lightly and take advantage of credit card rewards. Shop around for the best deals on flights and lodging and live like a local when you arrive.
And most importantly — invest in an adhesive phone wallet. You'll thank us later.